Universal Glass Tech is a family owned business that's been operating since 1993, we are proud of the fine work and commissioned orders that we have produced over the past 18 years for a diverse clientele base. Since our conception we have manufactured over 500,000 custom units of all sizes and shapes and designs for residential, churches and synagogues.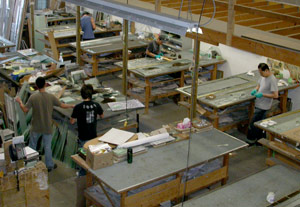 Our objective is to provide a vast selection of decorative glass, from standard stock to custom side lites and transoms, at an affordable and competitive price. We pride ourselves on quality and service at Universal Glass Tech and with the help of our dedicated and knowledgeable staff, we are confident you will find the glass units that add value and uniqueness to your environment. Our longevity and expertise makes us one of Canada's leaders in the decorative glass field, and we will continue to encourage and support creative expressions in glass: so if it is not a stock piece you are looking for, let your imagination soar. We are well known in the industry and have incredible relationships with many of the other companies in the glass market. Our goal is to produce a superior finished product, that meets our customers needs at a price within their budget.



SAFETY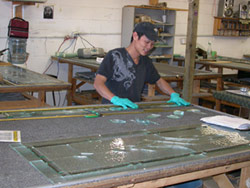 At Universal Glass Tech every decorative door lite that we produce is manufactured with safety tempered glass on both sides of the unit. As well all the frames we used are pre caulked so that they are installed there will be no risk of water seepage into your home, We also offer a 5 year warranty against any seal failure on all of our products.